!copyright 1999-2002 Tom Wilbeck; Longview, TX>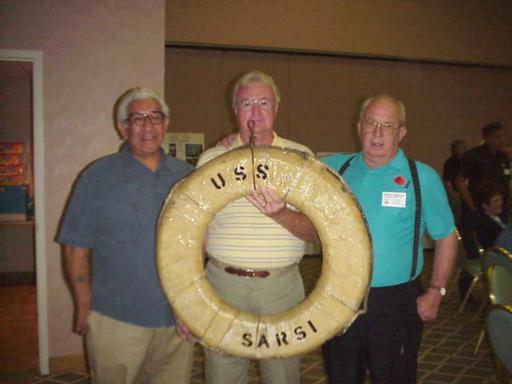 Survivors of the sinking of the USS Sarsi, as they appeared at the
NAFTS Convention in Massachusetts, September 1999. They are
L to R, Richard Rodriguez, Jim O'Connell, and Bill Hodgerson.
O'Connell is holding the life ring taken from the Sarsi that night.
He has kept it all these years. The ring contains the autographs of
all the survivors.
Photo courtesy Rich Tetrault and NAFTS.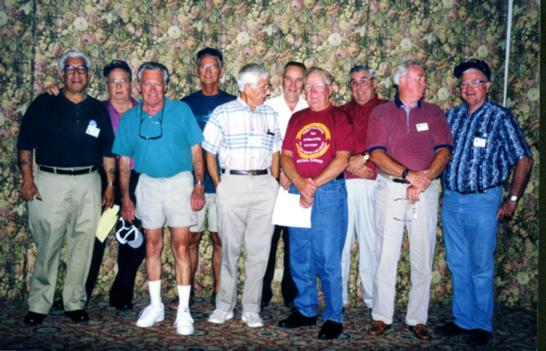 This group photo of some of the Sarsi survivors was taken at the
NAFTS Convention in September 1999. Pictured, L to R, are:
Richard Rodriguez, William Hodgerson, George Cornell, Donald Burns,
Hines Wommack, Herschel McCoy, George Nader, Richard Noel,
James O'Connell, and Terry Worden. Cornell had left the Sarsi
earlier in the day she was sunk, and transferred to another ship.
After the sinking, the ship, USS Platte (AO 24), carried the
survivors to Sasebo, Japan.
Photo courtesy George Cornell.
Return to The Sarsi Survivors page
Copyright © 1999-2002 Tom Wilbeck