!copyright 2002 Tom Wilbeck; Longview, TX>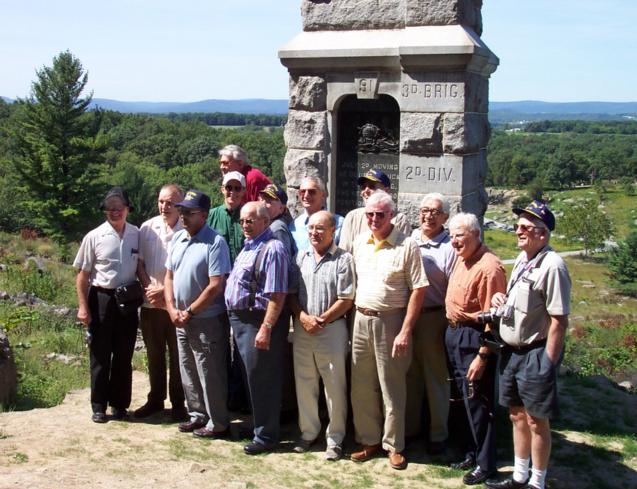 The Sarsi Survivors gathered in Hershey, PA for an annual reunion, hosted by
Lou and Ashie Santangelo. The group went on several tours such as the one
pictured above, the Gettysburg battlefield. Pictured, L to R, are: Don Phelan,
Herschel McCoy, Floyd Wheelis, George Cornell (at top in red shirt), Tom Wilbeck,
Bill Hodgerson, George Nader, Don Burns, Bill Buttler, Ken Waters, Jim O'Connell,
Dick Rodriguez, Larry Novick, and Terry Worden.
Photo by Charlotte Wilbeck.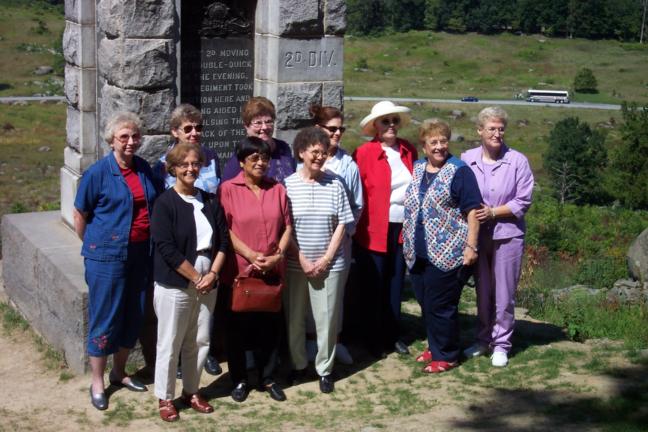 The Sarsi ladies at Gettysburg. Pictured above front, L to R, Ashie Santangelo,
Connie Wheelis, Oma Jean Waters, Betty Nader, Charlotte Wilbeck. Back, L to R,
Barbara Wommack, Janet Burns, Barbara Hodgerson, Judy Cornell, and Nancy
Rodriguez.
Photo by Tom Wilbeck.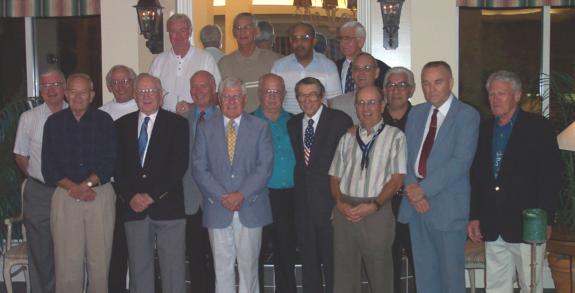 The Sarsi Survivors held a banquet at the Hilton Garden Inn Hotel in
Hershey, PA on September 7, 2002. Above, the Survivors pose for a
news photograph for an upcoming article featuring their experiences
during the Korean War and the sinking of their ship. Front row, L - R,
John Deardorff, George Nader, Lou Santangelo, Bill Buttler, Herschel McCoy,
George Cornell. Middle row, L - R, Terry Worden, Jim Rabe, Don Phelan,
Bill Hodgerson, Joe Suskie, Dick Rodriguez. Top Row, L - R, Jim O'Connell
Don Burns, Floyd Wheelis, Hines Wommack.
Photo by Tom Wilbeck.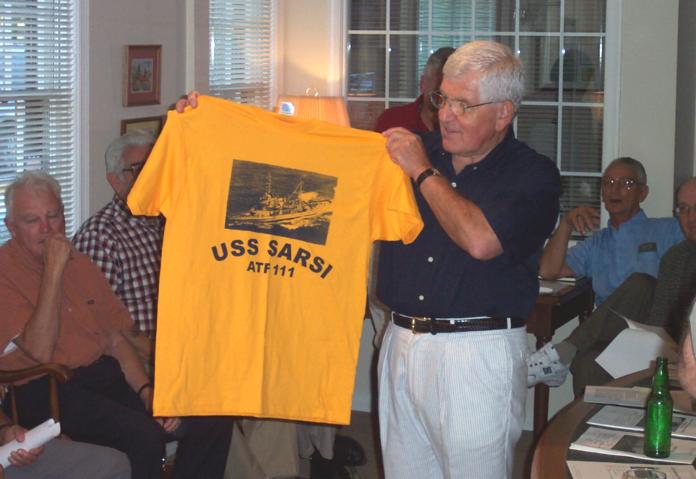 Lou Santangelo presents a commemorative shirt to each member of the Sarsi Survivors
Association during the organization's annual meeting.
Photo by Tom Wilbeck.
The men talk things over at a dinner
party at the Santangelo's.
Photos by Tom Wilbeck
The annual meeting of the Sarsi Survivors Association.

Reception at the Hershey Hilton Garden Inn Hotel





The reunion attendees enjoy the banquet.
Hershey, PA; September 2002.

Return to The Sarsi Survivors page
Copyright © 2002 Tom Wilbeck