!copyright 2010, Tom Wilbeck; Longview, TX>
Air Sea Rescue
---
One of the many duties of the USS Sarsi was that of participating in Air Sea Rescue missions. When it was believed that an aircraft had gone down in the waters within the Sarsi's operational area, she would many times be dispatched to the location to look for and/or salvage wreckage and debris; and to rescue survivors or recover bodies of victims. The same held for ships in distress. In and around the Bering Sea, the conditions were treacherous enough to make mishaps all too common. I read about one such mishap in the Sarsi's logs at the National Archives. The cause was not given in any documentation that was available to me.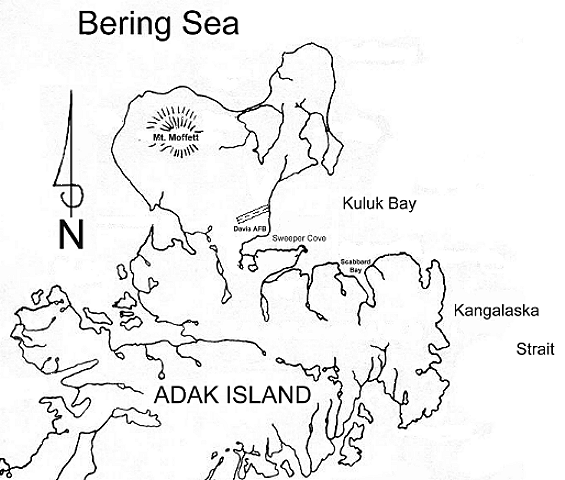 From the Deck Log of the Sarsi:

5 July 1950

ASR recovered body of LTjg Richard J. Stanwood USN (officers and crew of 10th Air Sea Rescue plane crashed 4 July 1950, Kulak Bay, Adak, Alaska)
I then found this obituary:

----------------------------

STANWOOD - In Adak, Alaska, July 4, 1950, Dr. Richard James Stanwood, U.S. Navy, son of Mr. and Mrs. B.G. STANWOOD of Mountain View, brother of Robert F. STANWOOD of Newark, Ohio, Mrs. Mary POWELL of Mountain View. A native of California, aged 26 years.

Friends are invited to attend the services today Fri. at 2 p.m. at the Spangler Mortuary, Mountain View. Interment, Alta Mesa Cemetery.

SOURCE: San Jose Mercury, Friday, July 21, 1950, page 5
San Jose, California
From: ancestry.com
----------------------------
Photos by George Cornell
On 5 July 1950, an SB-17G took off from Davis Air Force Base, located on the island of Adak. Davis AFB was Alaskan Command Headquarters until 1946, and was turned over to the US Navy sometime in 1950. At that time, it was the home of the 10th Air Rescue Squadron. Shortly after lifting off and becoming airborne, the aircraft apparently experienced trouble and ditched in Kulak Bay, about 3 miles out. The crew of 4 were all killed, including the pilot Eldon J. Burrel. Sarsi was called to the scene and recovered bodies and wreckage.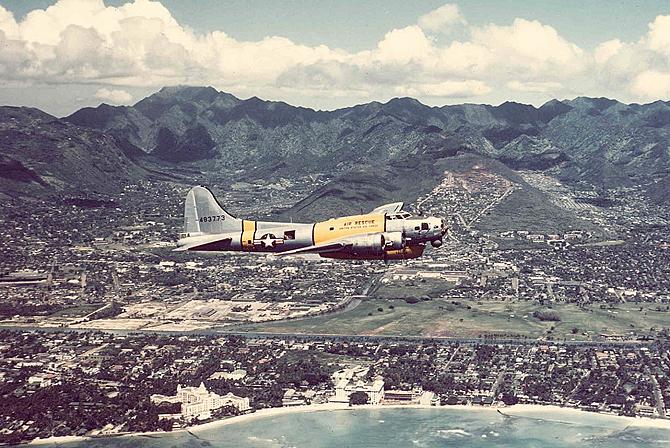 Air Force Photo
This airplane was built by Douglas Aircraft as B-17G-80-DL in early 1945, with the tail number 44-83470. It likely did not see missions during the war and was ferried to a storage depot for a time. It was converted to an SB-17G sometime between 1945 and 1949.
The SB-17G was a modified B-17 Bomber of World War II fame. The so-called "Flying Fortress" was stripped of guns and bombs and equipped with a search radar, survival equipment packages and rafts, and a large lifeboat was suspended underneath. The SB-17G would be sent out to search for surviving air or ship crew and could drop the boat, rafts or survival items to them to insure their survival until they could be picked up by ship or helicopter. It is sad that the same fate befell this airplane.
Return to Operations Menu
Copyright © 2010, Tom Wilbeck