The Salvage Divers
---
US Navy salvage vessels, including Fleet Tugs carried qualified divers on board. They were used to attach lines to underwater objects, use torches to cut away debris, make below-waterline repairs to hulls, clear fouled screws and rudders, and survey underwater terrain prior to salvage operations. The divers could also be called upon to retrieve or destroy classified materials aboard sunken ships. Normally the diver would be rated at some other speciality and called upon to dive when necessary. My father was a Metalsmith 3rd class. He welded, repaired and fabricated tools and equipment. He was also a qualified Salvage Diver. I understand that he dived while aboard the Sarsi. The Navy started him on a career of welding, which he loved, and was still doing in 1964 when he received fatal injuries on a welding job.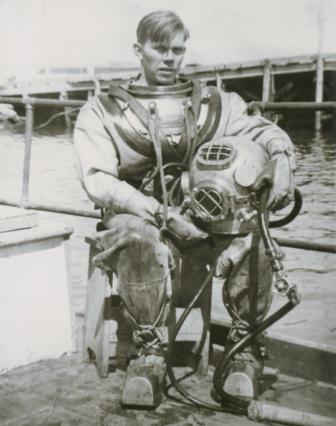 Tom Wilbeck at US Navy Salvage School; Bayonne, NJ, 1949.
I have Pop's diving manual that he brought home from the Navy. It is the 1943 edition, which has been superceded many times since. It gives a fairly accurate picture of what a Navy diver went through to complete his training and what he would face once he joined the fleet.
"Diving is arduous and hazardous work, and the art can be mastered only by training. The ratings in the United States Navy are (1) master diver; (2) diver first class; (3) salvage diver; (4) diver second class. Master divers and divers, first class, are qualified at the Deep Sea Diving School, [Washington Navy Yard]. Salvage divers are trained and qualified at the Navy Salvage Training and Diving School, New York City. Divers, second class, are qualified within the fleet, ordinarily on board submarine rescue vessels. Qualified Master divers and divers, first class, are trained and permitted to dive to depths down to 300 ft. Divers, second class, are prohibited from diving to depths in excess of 150 ft."
Diving Manual, Navy Department - Bureau of Ships, Washington, 1943
The equipment used to dive in those days looks heavy and clunky by today's standards. It is interesting to note, that the same equipment used then is still being used worldwide. The only major change is that motorized air compressors have largely replaced the manual air pumps.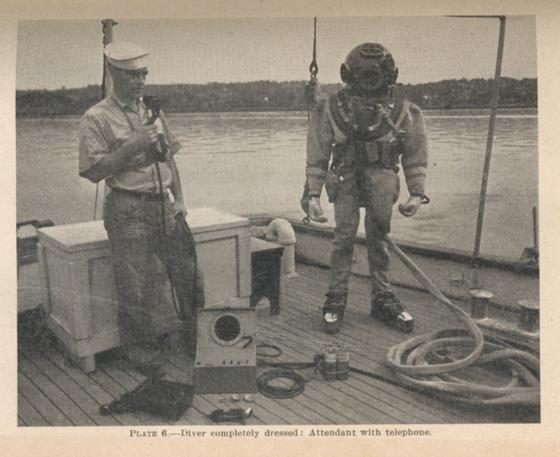 From Diving Manual, Navy Department, 1943
---
Go to next Salvage Divers page
Copyright © 1999-2007, Tom Wilbeck