The Wreck of the Donbass
---
One of the operations that the USS Sarsi participated in was an attempted rescue of the crew of a Russian tanker in 1946. It is an interesting story, one that highlights the Sarsi's role as well as the tense relationship between the US and the Soviet Union in that era.
I became aware of this story after I received an old newsclipping from Bob Tresner, who had served on Sarsi in 1952. Tresner could not supply details about the clipping or the incident, but thought I would be interested. It seems he was given the clipping by a former sailor that had been aboard the USS Gear, also involved in the operation. This former sailor, Edward Hayes, was given the clipping by a man named "Barnett" in San Francisco. I contacted Hayes and heard his recollections.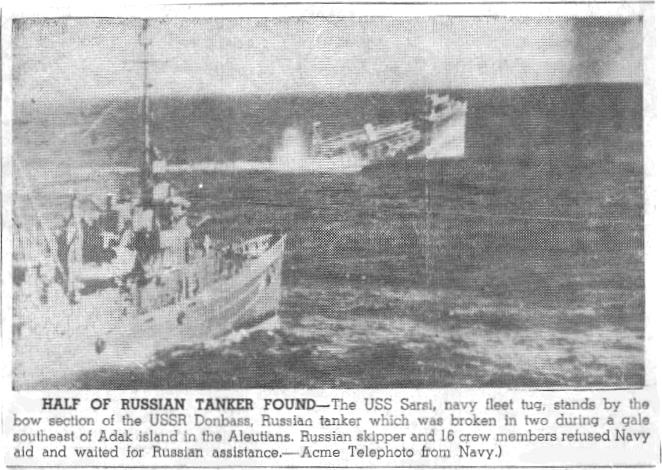 In mid February 1946, Sarsi and several other vessels, including Gear, were ordered to proceed to a location in the Aleutian Islands, near Adak. Upon arriving at the scene, they found the bow section of the ship afloat and containing the approximately six surviving crewmen. The US Navy ships attempted to get the Russian crew off the stranded hulk, but the Russians refused aid until the Russian ship, the Belgorod, came to the scene, collected them and towed the bow section away. The bow section was later scrapped. Reports are varied about the fate of the victims and survivors. Some accounts say that the skipper and 14 to 16 crewmen went down with the bow section, others say that the skipper and approximately 15 crew survived. One report says 48 crew members were rescued.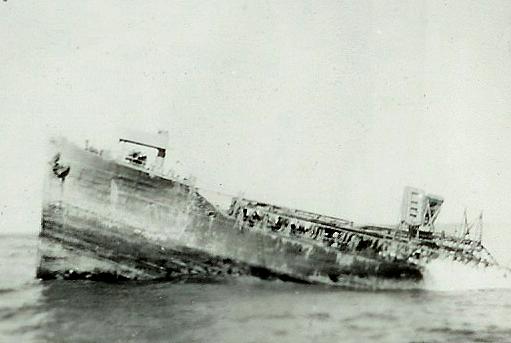 Deck Log, USS Sarsi, ATF-111

          22 Feb 1946
          1655  Commenced zig-zagging searching for Russian tanker, 
                c/c to 330 pstgc.
          1758  c/c to 197 (T), 187 pstgc…

          23 Feb 1946
                Steaming on zig-zag course in search plan for disabled 
                tanker (bow) in Lat 45 North to 47 North, to 174 West, 
                on various courses at standard ahead…

          24 Feb 1946
                Enroute from search area to rendezvous with SS BELGOROD 
                and USS GEAR (ARS-34) Lat. 45 - 25 N, Long 169 -40 W. …
          1036  Following Russian Merchant ship STARY BOLSHEVIK in 
                company with USS GEAR (ARS-34)…
          1130  Made radar contact bearing 121 (T), distance 14 mile, 
                with Russian merchant ship BELGOROD and bow of disabled 
                tanker USSR DONBASS. …

          Approaching USSR BELGOROD and wreck
          1234  Arrived at long 171-52 West, lat 45-48-30 North.
                Standing by bow of DONBASS.
          1513  Took departure from wreck.

          25 Feb 1946
                Enroute from scene of Russian merchant disaster 45-48 
                North/171-52 West to Adak, Alaska in company with 
                USS GEAR (ARS-34)…

The aft section, also still afloat, was towed to Seattle for scrapping. It was sold to Pacific Gas & Electric Co., when it was learned that the engineering section was intact and operational. PG&E had the hulk towed to Eureka, CA and beached where it served as a power plant. The GE steam turbine-generator provided close to 5 Megawatts of electrical power to post-war Eureka. About ten years later, the hulk was dismantled as a new power plant had come on line to replace her. The turbine continued to serve in one capacity or another until 1963.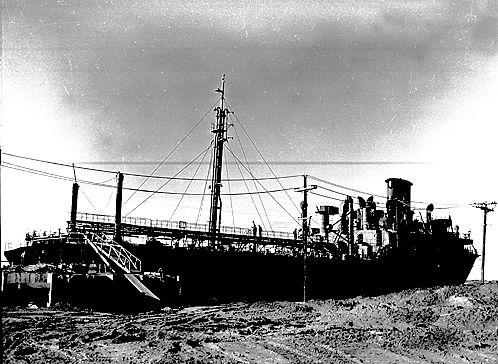 Source and Copyright, Pacific Gas and Electric Company

The S/S Donbass III began life as a lend-lease tanker launched at Kaiser Shipbuilding, Portland Oregon. She was a "T-2" type tanker, almost identical to many tankers that served as oilers in the US Navy during WW II. Her original name was S/S Beacon Rock when she was launched in 1944. Once she passed sea trials, she was given to the Russian government and renamed.. Her main role was transporting fuels from the US west coast, up across the Bering, and Okhotsk seas, and the Sea of Japan, to Vladivostok, Russia. She was still traveling the same route when, South of Adak, she encountered a gale and broke in two.

The tankers of this type were constructed very similarly to the Liberty Ships that were built in huge quantities during the war. The T-2s, like the Liberties, were somewhat weak in the keel, and would break in half under the right conditions. For that reason, some referred to the ships as "Kaiser Coffins". That is likely what happened to Donbass.


Return to Operations Menu


Copyright © 2007, Tom Wilbeck